Estate Sale Shopping Tips Help Get Deals
Going estate sale shopping? Well, you're not alone! Going to garage sales, yard sales and even multi-family sales is a fun thing to do on a Saturday morning. Yet the mother load of shopping experiences is estate sale shopping. Whenever I plan to go to an estate sale I get ready for a wonderful shopping experience.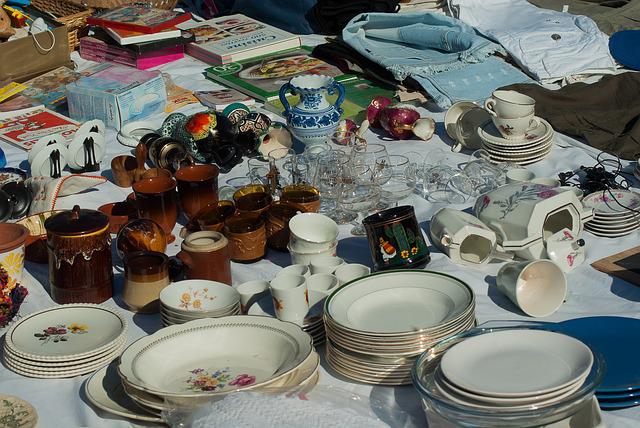 Sometimes you can find great deals on estate sales, but without knowing the best way to go about shopping them, you might end up with nothing. In this article, we'll explain how to spot a good deal, how to avoid getting scammed, and some amazing estate sale shopping tips to get your great deals.
What is an Estate Sale?
An estate sale is a sale of property owned by someone who has died. It is also called a death auction.  Now in today's world, there are sales that have no items from people who have passed but are also called estate sales.
Related Article: 9 Good Money Habits You Can Start Today
Typically these are bigger sales from people downsizing later in life, moving to a new location and even neighborhood sales. It's been a pretty loose term to share vintage items, everyday items and home items for sale. Estate sales are held in many different ways, but they all have one common goal: to sell as many items as possible in a short time. 
Why Estate Sale Shopping Tips?
Estate sale shopping can be a daunting task, but with the right tips, you can have a successful experience. You can also make money buying at an estate sale and then reselling on other venues. It's a place where finding a deal is possible and you can even have a great time Here are some tips to help your estate sale shopping:
Organize your time and what you want to buy before you start estate sale shopping. This will help you keep things organized, find items you want to buy and look for great deals.
Make a list of everything you're willing to buy. Do you collect vintage lamps? Like comic books? Those things you want should be where you look first.  This will help you find out exactly what your interest is and avoid any last minute purchase surprises.
Arrive before the sale starts. Arrive early on the first day of the sale if you want to see everything. Make sure you claim your spot in line and be ready for when the line moves.
Plan to spend time checking out every area of the house, apartment or building as you go through the set up. Many people leave the items in the corresponding areas so you might find cups, mugs and plates in the kitchen. This makes checking your list easier as you walk through and look at the items and make comparisons.
Be prepared to ask questions about the items. Be it historic interest, how much it was used or other details, it's important to know more, especially for vintage items.
Go on the last day of the estate sale for the best shopping deals. Find listings online and make a list. If it's a one day sale, the last three hours are going to offer you great deals too. You might not have as many options as many items could have sold, you will still have options.
Don't be pressured to buy more than you need. Professional sellers will love to tell you to make a pile and just add. Don't do it. Instead make sure you look at (and collect) items you want to purchase. Offer your purchase items as you only need instead of just making a big pile of everything.
Bring cash and use small bills. You can't negotiate with a hundred dollar bill, but you can with a five dollar bill, one dollar bills and even a ten dollar bill. Use smaller bills to make your best offer.
Haggle even if they don't seem interested. If you make an offer that's reasonable, it's very likely you can come to a good price to purchase. Have the cash and be ready to give a fair sum.
Be Nice to the sellers. You will find that a smile, an interest and a happy greeting is a good way to make a fair deal and make the sale a fun opportunity for everyone.
 Don't be snooping around. If the estate sale is at a home or private residence, then remember to mind your manners and stay out of place that aren't part of the sale.
Take measurements before you go to an estate sale. Looking at buying any furniture or maybe clothing? Know the measurements before you buy so you can make a deal when you find the perfect pieces.
Keep the bags at home. There are so many instances of shoplifting that many sellers insist you don't bring any large bags, purses or any other containers.
Have fun! Explore the different estate sales in your area to find amazing shopping deals.
In Conclusion
Hopefully my estate sale shopping tips will help you find the best deals at the sales near you. As you continue to shop at different locations, you will hone your skills to find the perfect items that you need! Happy Shopping!