Note: Affiliate links may be used in this post. I may receive a small commission at no extra cost to you if you use my affiliate link. Full disclosure policy here.
6 Painless Short Term Financial Goals to Set
Are you thinking short term financial goals are impossible to be part of your financial focus? Long term financial planning is important, but more important to your success is setting short term financial goals. The success of reaching every goal will help your future and build confidence.
Short term financial goals are painless. Rather than being overwhelmed with long term goals, you can be confident after you complete every doable goal that you start. You can feel empowered, focused on your finances and kick your money goals into high gear.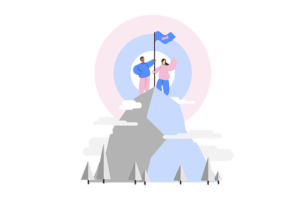 Here are 6 ideas you should consider when you set short term financial goals:
1. Start an Emergency Fund as a Short Term Financial Goal
An emergency fund is a great short term goal to achieve. Everyone needs a backup, just in case the world goes crazy, and it's an achievable goal. People typically try to set aside 3 to five months of living expenses. However, you don't need to set a goal that high. Decide on an emergency fund sum that would help you out if there is an emergency. Then start saving for it.
2. Review Your Financial Situation Honestly
Can you easily share where all your money is going? Or offer up how much money you are making? Maybe it's time to take a few hours and review your financial situation. You don't need to tell anyone your personal money situation, but you need to know. Sit down and review your bills, go over your expenses and see where your money is coming from. If you consider the last two months of your finances, you will see patterns and trends. Ultimately you can make decisions to better your focus.
Related Six Money Mindset Hacks to improve Your Life
3. Write up a Budget for the Upcoming Month
A new budget is a realistic short term financial goal. It doesn't need to be fancy, it just needs to be real. A list of what expenses you have, what money you make and a decision on how you can beef up your savings and maybe even trim some expenses.
4. Find an Area to Cut Bills in the Upcoming Month
Wonder if you can actually achieve big financial goals? Then take on the short term financial money goal of cutting a bill down. Show yourself that you can be frugal and pay less than you did last month by changing services, cut a subscription or even bypass a fancy dinner. Then put those savings into your savings account. That's a big win for your financial future!
5. Understand How Money Can be Your Friend
Reading personal finance books and books about money is a great way to explore how other people understand money habits and create wealth. That's not to suggest that every book or article will fit your goals, but it will open your perspective on what you can do in the future.
6. Keep it Real
Show yourself how serious you are by committing to a no spend week. Eat at home, avoid paying for entertainment and find free activities for a whole week. You might be surprised how this short term financial goal is really a test of how you can adapt to make the bigger decisions. You will notice that things you need to pay for will find their way to your door. Can you say now? Absolutely and every time will be easier than the last.
BONUS Short term Financial Goal
7. Consider starting a savings account.
If you are serious about your financial goals, you need a place to put the cash you save. A great short term financial goal is setting up a savings account that helps start the new money chapter in your life!
How Many of These Easy Short Term Financial Goals Will You Try?
In Conclusion
These 6 painless short term financial goals are the first step to getting on track with your finances. You can spend as much (or as little) time as you'd like, but the overall picture is that you set your easy short term financial goals and move forward. Your future depends on it!