Free Hotel Amenities to make a vacation cheaper in 2022? Absolutely! Don't you want to get away this year? Including on a family vacation? Yes, the amenities are often overlooked by guests, but always offered by hotels. They are great to have when you are trying to cut down a budget, need something in a pinch or just want to be pampered.
This post is all about 14 Hotel Amenities to Make a Vacation Cheaper!
Some of the benefits of free hotel amenities include:
Save Money. You are paying for hotel amenities (so you don't need to pay again.

Enjoy Your Vacation More. If you already have these features available, there is no stress looking for them.

Easy to ask for. It's all about picking up the phone (or going to the lobby) and getting them.

Great Convenience for the Family. This is what vacations were made for!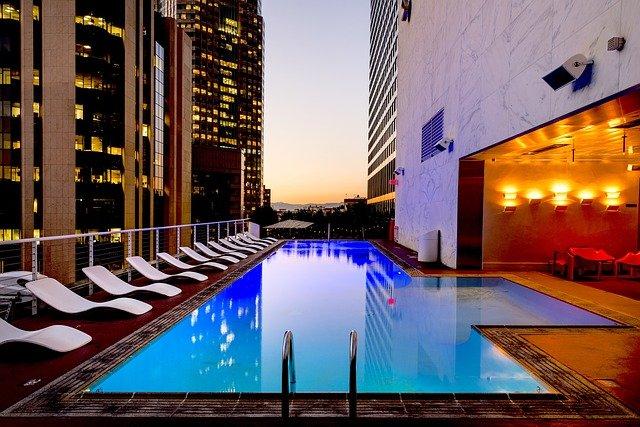 14 Ways to Make a Vacation Cheaper
Going on a trip? Free hotel amenities make your vacations even more relaxing AND cheaper. Of course you don't want to be paying high prices and then arrive to pay for more. If you're looking for a frugal hotel stay but don't want to sleep with the insects, consider looking for hotels that offer free hotel amenities that cut down on your overall budget. Sometimes it's not so much about how expensive it is per night but what is included in the stay that's technically a freebie. 
A moderately priced hotel with great hotel amenities will give you more flexibility and freedom then a frugal hotel where you need to worry about your personal items and well-being while saving money.
When I explain how I decide to stay at a hotel, I always preface it by saying I look at the big picture. If I know I need transportation and I can stay at a hotel that offers transportation or parking for free it might be more feasible than a frugal hotel where I need to rent a car and worry. These little ideas can save you a lot of cash!
Recommended Reading: Eight Frugal Minutes 3rd Season
Start Asking for these Free Hotel Amenities:
Free transportation. Buses, cars or Vans to tourist destinations that you will be attending. This will save especially if you are on a family vacation. It will allow you to not worry about a car rental, insurance and gas. Even in Vegas you can find free transportation as a common free amenity.
Free continental breakfast. Loading up on breakfast and spending the day exploring is a good way to Vacation. Continental breakfast bars sometimes offer dry cereal, toast or waffles, juice, and even fruit. Always take an extra piece of fruit with you for your mid-morning snack. Check out the Choice Hotel Brand for their breakfast offer when looking at rates. Free food saves you more money.
Free parking. If you've decided to rent a car it's good to know where you're going to park it. A free parking spot is worth its weight in gold, especially in metropolitan areas. Most Hyatt locations offer free parking, but always call to verify, no matter the chain, as policies change it will allow you to know that the car is safe and close by when you are ready to depart.
A refrigerator. It could be a small one or perhaps a full size but it's perfect for holding drinks and cold items you get at the local store. Getting groceries always cuts down on cost. That doesn't mean you shouldn't go out to eat but for snacks and other types of food consider stopping by and buying what you traditionally eat during the day and putting it in the fridge.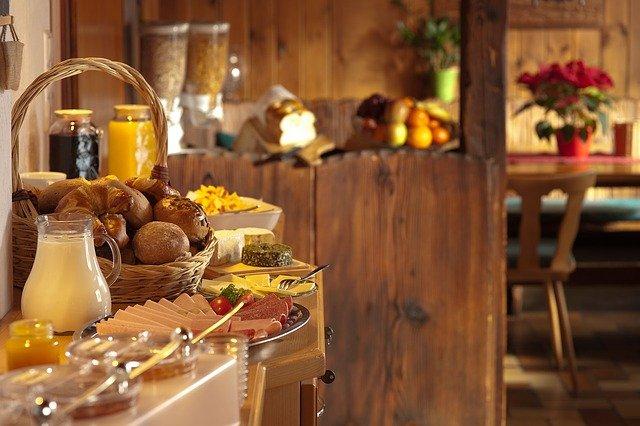 Happy Hour. Most hotels have some sort of happy hour. It could be coffee and cookies. Or even drinks. The Franklin Hotel in New York City is known for their happy hour at the hotel. Depending on where you are at and what your schedule is it's sometimes advantageous to come back to the hotel for happy hour.
In-room coffee maker. This machine is good for coffee lovers and for everything else too. Instant tea, instant soup, and even instant oatmeal can be made by using a coffee pot.  The premise of hot water from this machine makes the hotel more like a home when it comes to what you eat.
 In-room microwave. Another handy tool for cutting down cost on your vacation. If you have food in your room then you won't be spending  big money at the hotel restaurant. It's perfect for late-night munchies (which always happens for me) and early morning food. It's also good to reheat anything you might have brought back to the room… Including Pizza.
The hotel pool. If you know your hotel has a pool and you are on vacation it's more likely you're going to relax for an afternoon an evening or after a long day vacationing. Some of those tours can be grueling and after you get home there is nothing more delightful than sitting in a hot tub  Relaxing your muscles for the next days adventure.
Free Wi-Fi. You might think this is  basic but reality is most hotels and motels do charge daily fees for internet access. Even fancy hotels like the Westin Galleria in Houston offers no charge internet, but you got to check. If you use your phone it's not a big deal but if you have a zoom called coming in you might want to use  the hotel Wi-Fi. If there is not any free  Wi-Fi available, I always check the surrounding area to see if there is a local coffee shop that offers it at no charge.
Free activities. Most  hotels charge for activities however there are a few that will post tours mixers and other events for people to come together. Ask at the reservation desk about any activities they are sponsoring daily.
Free water. Most motels offer free water to guests upon check-in. You can request, and no additional charge, additional water bottles for your stay as well. Just ask when you check in if it can be sent to your room. This is perfect example of hotel amenities that cut costs for those extra days out touring when you don't want to pay five bucks a bottle at the theme park.
Fitness Center. While you might be on vacation,  it might not be the best time to quit your Fitness routine. A fitness center typically charges per day however most hotels will waive the fee if you are staying in a room.
Free kid classes. When on family vacation asking if there are any free kid activities during the day might be advantageous to take advantage of. Many hotels offer events, classes and even babysitting at locations. The kids would be having fun while the parents are taking a break! 
Free Maps! Many hotels offer free maps of the area. This includes promotional materials Chamber of Commerce or Visitor Center books and other helpful guides to get the best out of your vacation. Ask if they have any free supplemental materials that can be sent up to your room for review.
In Conclusion
The best way to save money is to look at your overall budget and see what free hotel amenities are available then ask how you can cut it. If you spend a little more at a hotel and save money on snacks, water and even transportation you might be surprised how that changes your overall budget structure. This is especially true on family vacations where you need special items for the kids.
I always try to stay in a studio type room when we travel so that everything is at my fingertips. That way I can control better how much unknown expenses might occur.  Remember the simplest things, like being hungry at midnight and running to the convenience store could blow your budget right out of the water. Free hotel Amenities are the perfect answer!!